Conference: Maryland Life Sciences Bio Innovation Conference, 2023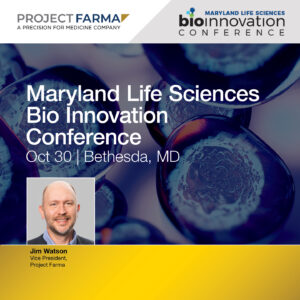 Conference: Maryland Life Sciences Bio Innovation Conference, Bethesda, MD 2023
The Project Farma team is thrilled to be attending this year's Maryland Life Sciences Bio Innovation Conference, where our top life sciences professionals in the region will connect with leading global brands, venture capitalists and promising startups. This conference offers a unique opportunity to reach industry leaders and decision makers across the industry and demonstrate to colleagues and clients how our services are leading the way to a healthier tomorrow.
Make sure to visit the Project Farma website for access to more thought leadership, white papers, and publications from our experts in preparation for this exciting event. 
Click here to preview the agenda for the Bio Innovation Conference today!