Article: Establishing The Right-Sized Tech Ops Strategy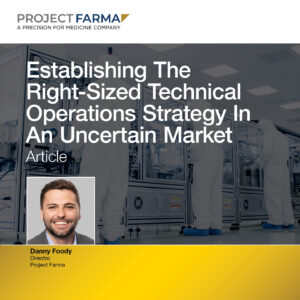 Establishing The Right-Sized Technical Operations Strategy In An Uncertain Market
Determining the right technical operations (tech ops) strategy for a precision medicine or emerging biopharma company can feel like building a complex piece of machinery from scratch without instructions.
Using insights collected by our team of experts, Project Farma's Danny Foody (Director, Project Farma) addresses how to develop a dynamic tech ops strategy, aligning supply and demand, and mitigating supply chain or regulatory bottlenecks in "Establishing The Right-Sized Technical Operations Strategy In An Uncertain Market".
To read the article in full, click here!