Philanthropy & Culture: PF Walks for Breast Cancer Awareness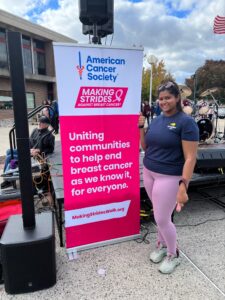 Philanthropy & Culture: PF Walks for Breast Cancer Awareness in Edison, New Jersey
As a patient-focused delivery team, we are committed to connecting our team members to patients and their families. Connecting our team to the patients has fostered a culture within our organization that is focused on providing solutions, meeting deadlines, and getting results.  
Over the past three decades, the American Cancer Society Making Strides Against Breast Cancer (MSABC) campaign has united communities, companies, and individuals and has grown into the nation's largest and most impactful breast cancer movement. This year, Making Strides events will take place in more than 150 communities nationwide. Together, they raise funds for lifesaving breast cancer research and are committed to advancing health equity through essential programs and services.
Last week, the Project Farma team fundraised for and participated in the Making Strides Against Breast Cancer Walk in Edison, NJ. Our team showed our support for those living with or affected by Breast Cancer and are currently fundraising with hopes of exceeding our goal of fundraising $250 for research and education!