Philanthropy & Culture: PF Moves with the Parkinson's Foundation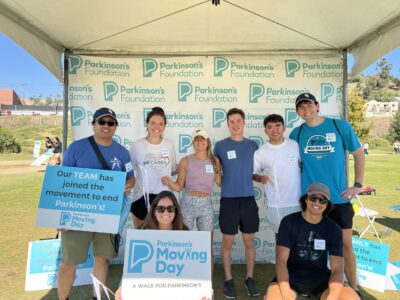 PF Joins Moving Day in Los Angeles, CA with the Parkinson's Foundation
As a patient-focused delivery team, we are committed to connecting our team members to patients and their families. Connecting our team to the patients has fostered a culture within our organization that is focused on providing solutions, meeting deadlines, and getting results.   
In the United States, nearly 90,000 people are diagnosed with Parkinson's disease (PD) every year, adding to the one million people who currently have Parkinson's disease. The Parkinson's Foundation is facilitating the advancement of PD treatment via PD GENEration (Genetic exploration of PD) and research funding at five research centers across the US. In addition to their research and education initiatives, the Parkinson's Foundation supports Moving Day, an annual fundraising walk event that unites people around the country living with Parkinson's disease (PD), their care partners and loved ones to help beat PD. Moving Day is more than just a walk. It's a celebration of movement – proven to help manage Parkinson's symptoms.
Moving Day is the first nationwide grassroots campaign that spotlights PD on a national level and gives the chance to raise awareness and funds in our own community. It's a celebration of movement that features a family friendly walk course, a kids' area, a caregivers relaxation tent and a special Movement Pavilion featuring yoga, dance, Tai Chi, Pilates, etc., all proven to help manage Parkinson's symptoms. Moving Day is 'a day to move, a day to move others, a day that moves YOU'!
The Los Angeles Project Farma team had a blast participating in this year's in Moving Day facilitated by the Parkinson's Foundation.
To learn more about the Parkinson's Foundation and Moving Day, click here!