Article: Scaling Hope: The Growth of Allogeneic Cell Therapy Sector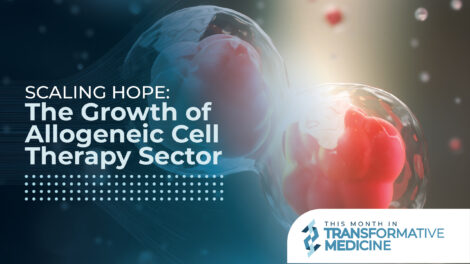 Scaling Hope: The Growth of Allogeneic Cell Therapy Sector
In the rapidly evolving landscape of advanced therapies, allogeneic cell therapies have emerged as a promising avenue for addressing various disorders, including hematological malignancies, neurological conditions, and autoimmune or inflammatory diseases. With a number of clinical trials underway to evaluate their efficacy, allogeneic cell therapies hold significant potential in reshaping the way we approach treating numerous diseases. These therapies offer distinct advantages over their autologous counterparts as allogeneic cell therapy presents a streamlined alternative. These 'off the shelf' therapies utilize cells from healthy donors that are genetically modified and stored in large batches, ready for use. This innovative approach allows for quicker treatment initiation, larger-scale preparation, and potentially broader accessibility. The unique benefits of allogeneic cell therapies have the potential to revolutionize treatment and provide new hope for many patients living with devastating diseases.
Anshul Mangal, President of Project Farma and Precision ADVANCE, addresses Allogeneic vs. Autologous approaches, the challenges associated with each approach, and projected industry growth in "Scaling Hope: The Growth of Allogeneic Cell Therapy Sector." 
To read the article in full, click here!