Conference: Cell & Gene Meeting on the Mesa, 2023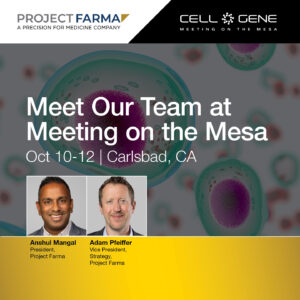 Conference: Cell & Gene Meeting on the Mesa, Carlsbad, CA, 2023
The advanced therapies sector is growing at an exponential rate. Project Farma and Precision ADVANCE are pleased to return to the Cell & Gene's Meeting on the MESA, where over 2,000 likeminded industry experts will discuss topics ranging from next-generation platform technologies to the benefits of early patient engagement in cell and gene therapy development. 
Moderated by Anshul Mangal (President of Project Farma & Precision ADVANCE), this discussion will feature insights from Phil Cyr (SVP, Precision Value & Health), Derek Hicks (CBO, Intellia), Ann Lee, Ph.D. (Chief Technical Officer, Prime Medicine), Bob Smith (Senior Vice President, Global Gene Therapy Business, Pfizer), and Arthur Tzianabos, Ph.D. (Venture Partner, 5AM Ventures). 
This plenary speaking engagement will feature leading executives in the advanced therapies space who will discuss a number of topics including the current state of the sector, future technologies and innovations, and a forecast on potential approvals. The session will also touch upon solutions for manufacturing and regulatory bottlenecks as the sector moves towards commercialization, as well as the evolution of reimbursement payment models. 

Connect with our team at Meeting on the Mesa by:
Attending our plenary speaking

engagement

 on Tuesday, October 10th from 9:15am – 10:15am PST

Attending the cocktail hour sponsored by Precision ADVANCE on Wednesday, October 11th at 6:00pm PST

Scheduling an in-person or virtual meeting via the Meeting on the Mesa partnering system
Make sure to visit the Project Farma and Precision ADVANCE website for access to more thought leadership, white papers, and publications from our experts. Click here to learn more about Meeting on the Mesa!