Article: Bioprocess Online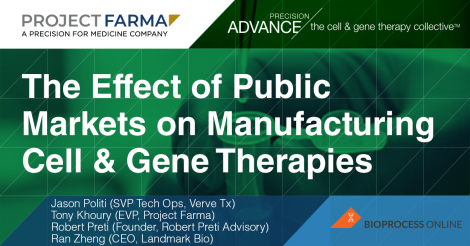 The Effect Of Public Markets On Manufacturing Cell & Gene Therapies
The manufacturing challenges that typify cell and gene therapy production are diverse, particularly where they intersect with public markets. In a recent webinar, "Public Markets' Impact on Manufacturing Advanced Therapies," an array of experts from across the cell and gene therapy space convened to explore how to ensure commercial viability for cell and gene therapy through the right approach to manufacturing.
Project Farma team and guests address unique challenges related to manufacturing at scale in the current market and how drug developers are innovating in the face of constraints in "The Effect Of Public Markets On Manufacturing Cell & Gene Therapies".
To read the article in full, click here!