Philanthropy & Culture: Be Kynd & Carve Pumpkins Philanthropy Event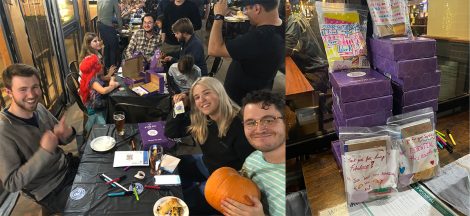 Be Kynd & Carve Pumpkins Philanthropy Event
As a patient-focused delivery team, we are committed to connecting our team members to patients and their families. Connecting our team to the patients has fostered a culture within our organization that is focused on providing solutions, meeting deadlines, and getting results.  
Project Helping partners individuals, families, and corporate groups with the opportunity volunteer anytime, anywhere, through the use of their Kynd Kits. Kynd Kits are kits built by volunteers to support First Responders, Essential Workers, Autism Support, Chemo Care, and more. Since its founding in 2011, Project Helping has impacted 2 Million people world-wide with over 150,000 Kynd Kits. 
The Colorado Project Farma team dedicated an entire evening to connecting with family and friends by carving pumpkins, and connecting to our communities by building Kynd Kits. With the team's help, we made over 20 Kynd Kits for various recipients. 
To learn more about Project Helping, click here!