Philanthropy & Culture: PF Holiday Heroes: Giving a Warm Engineering Hug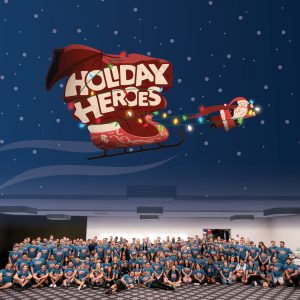 Philanthropy & Culture: PF Holiday Heroes: Giving a Warm Engineering Hug
In March of 2020, Project Farma set out to continue our unwavering traditions of culture building, philanthropy, and professional development during a remote work environment and a new normal. During this time, our teams worked hard to plan a variety of virtual events with patient-advocate organizations; all with the goal of amplifying our potential impact by engaging our teams nationwide.  
In November of 2020, our team observed the impact of this new normal first-hand – witnessing hardship in our own communities. Staying true to our CARES philosophy, our team brainstormed a way to give back across the country with the option to participate virtually. Shortly thereafter, Project Farma Holiday Heroes was born. 
In the years since, our team has partnered with The Salvation Army each holiday season in support of their Angel Tree program – a program that helps provide Christmas gifts for hundreds of thousands of underprivileged children around the country each year. We are proud to share that we were the first organization ever to partner with the Salvation Army for a Nationwide Angel Tree campaign.  
This year, our Holiday Heroes are not only partnering with the Salvation Army Angel Tree, but they are giving a Warm Engineering Hug to those in our communities who need it most by hosting a nationwide virtual coat drive with One Warm Coat. Team Members, their families, and friends can now join us as we set out to be the heroes our communities need this holiday season.  
If you would like to get involved in our Holiday Heroes initiative, we encourage you to connect with us on LinkedIn or in-person with a member of Project Farma. 
Click here to select an Angel from our Angel Tree to support children in need this holiday season!
Click here to locate a used coat drop-off near you to help us give a warm engineering hug!
We are so proud to stand by our communities, partners, and patients we serve this holiday season and are thankful to have a team so supportive of our patient-focused, people-first mission. Happy holidays!