Article: Bioprocess Online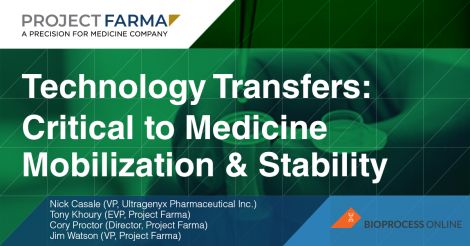 Technology Transfers: Critical To Medicine Mobilization, Success & Sustainability
The technology transfer process is the critical and inevitable step in moving science forward for promising and, eventually, successful products. 
Nick Casale (Vice President, Global Facilities & Corporate Engineering, Ultragenyx Pharmaceutical Inc), Tony Khoury (Executive Vice President, Project Farma), Jim Watson (Vice President, Project Farma), and Cory Proctor (Director, Project Farma) address scenarios which require technology transfer of a product and discuss critical pre-transfer assessments that increase a medicine's chances of success in "Technology Transfers: Critical To Medicine Mobilization, Success & Sustainability".
To read the article in full, click here!