Philanthropy & Culture: PF Volunteers with NourishNow Food Bank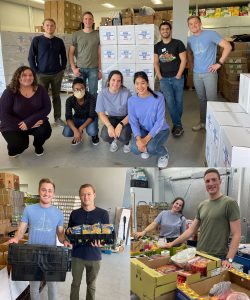 PF Volunteers with NourishNow Food Bank 
As a patient-focused delivery team, we are committed to connecting our team members to patients and their families. Connecting our team to the patients has fostered a culture within our organization that is focused on providing solutions, meeting deadlines, and getting results.  
NourishNow, a food bank specializing in food recovery, is on a mission to solve two social issues simultaneously: food waste and hunger in our community. Since its founding in 2011, NourishNow has provided 14+ Million pounds of food to those struggling with hunger. 
The Maryland Project Farma team dedicated an entire day to volunteering with NourishNow; sorting and organizing food donations, unloading/loading food trucks, and packaging food distribution boxes. With the team's help, we made 180+ Family Relief Boxes – essential items and meals for families in the community facing food insecurity. 
To learn more about NourishNow, click here!