Philanthropy & Culture: PF Volunteers with Project Angel Food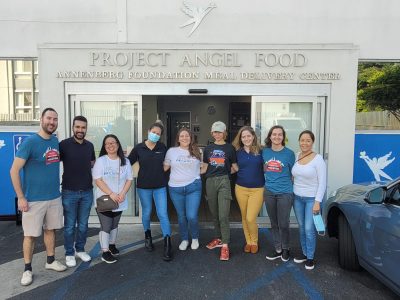 Philanthropy & Culture: PF Volunteers with Project Angel Food 
As a patient-focused delivery team, we are committed to connecting our team members to patients and their families. Connecting our team to the patients has fostered a culture within our organization that is focused on providing solutions, meeting deadlines, and getting results.  
Since 1989, Project Angel Food has been dedicated to preparing and delivering healthy meals to people impacted by serious illness, bringing comfort and hope every day. In 2021, Project Angel Food celebrated its 14 millionth meal delivered!  
In the weeks leading up to the event, the Southern California Project Farma team collected donations of canned goods to support Project Angel Tree's inventory. Then, our team gathered to pack and prepare healthy meals at the Project Angel Tree headquarters, preparing almost 1,500 meals for those in need in our communities! 
To learn more about Project Angel Food, click here!