Philanthropy & Culture: PF Walks for Breast Cancer Awareness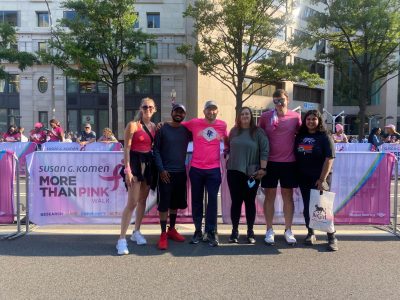 Philanthropy & Culture: PF Walks for Breast Cancer Awareness
As a patient-focused delivery team, we are committed to connecting our team members to patients and their families. Connecting our team to the patients has fostered a culture within our organization that is focused on providing solutions, meeting deadlines, and getting results.  
Since its founding, the Susan G. Komen foundation has invested $1.1B in Breast Cancer research, united with 30 million individuals in the Breast Cancer community, and has given more than 220,000 individuals financial assistance and support in their Breast Cancer journey.  
Last week, the Project Farma team fundraised for and participated in Susan G. Komen's More Than Pink Walk in Washington, D.C. Our team showed up to show our support for those living with or affected by Breast Cancer and are currently fundraising with hopes of exceeding our goal of fundraising $500 for research and education! 
To learn more about Susan G. Komen and locate a More Than Pink Walk near you, click here!