Philanthropy & Culture: PF Field Day with CureSMA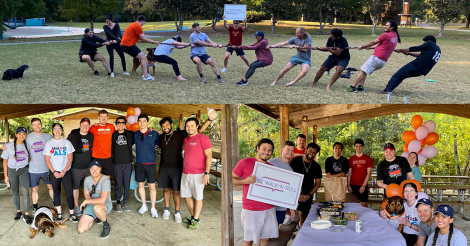 Philanthropy & Culture: PF Field Day with CureSMA 
As a patient-focused delivery team, we are committed to connecting our team members to patients and their families. Connecting our team to the patients has fostered a culture within our organization that is focused on providing solutions, meeting deadlines, and getting results.  
Spinal muscular atrophy (SMA) is the leading genetic cause of death for infants. Thanks to CureSMA, those living with or affected by spinal muscular atrophy have hope. Researchers, caregivers, healthcare providers, families, and individuals involved with CureSMA are working together to change the course of SMA. This includes organizations like Project Farma, who are striving to bring life-changing and life-saving treatments to patients.  
Last weekend, the Raleigh-Durham Project Farma teams came together for a weekend full of philanthropy and team building! First, our team attended the CureSMA Walk-n-Roll to raise funds and awareness for life-changing Spinal Muscular Atrophy Research. We then continued the fun with a PF Field Day, where we were joined by family, friends, and partners for food, drinks, and games!  
To learn more about CureSMA and locate a Walk-n-Roll near you, click here!