Article: Bioprocess Online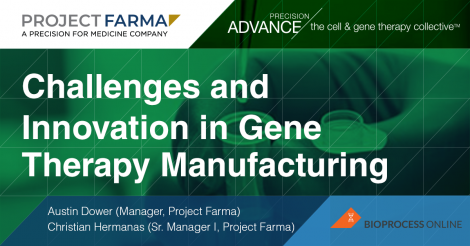 Challenges and Innovation in Gene Therapy Manufacturing 
The road to final approval for a biotherapeutic is long and filled with obstacles – from manufacturing and scale-up to regulatory adherence and business practices – the choices an emerging advanced therapy company must make to maximize potential market success are vast. 
Austin Dower (Manager, Project Farma) and Christian Hermanas (Sr. Manager I, Project Farma) address the advanced therapy status quo and how the industry is making improvements to technology and processes to prepare for the future of gene therapy manufacturing in "Challenges and Innovation in Gene Therapy Manufacturing". 
To read the article in full, click here!