Philanthropy & Culture: PF Volunteers with GRACE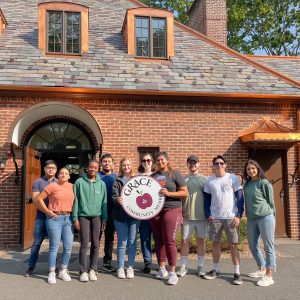 Philanthropy & Culture: PF Volunteers with GRACE (Giving and Receiving Assistance for our Community's Essentials)
As a patient-focused delivery team, we are committed to connecting our team members to patients and their families. Connecting our team to the patients has fostered a culture within our organization that is focused on providing solutions, meeting deadlines, and getting results.  
More than 38 million people, including 12 million children, are food insecure, according to the USDA. GRACE (Giving and Receiving Assistance for our Community's Essentials) meets community needs with community resources to enable the good health and success of our vulnerable and underserved neighborhoods.  
The New Jersey Project Farma team volunteered with GRACE to aid in their packaging and distribution efforts of groceries and essential goods to vulnerable members of the community. Weekly, GRACE distributes 16,000 pounds of food and supplies to an average of 430 households in our local community. 
To learn more about GRACE, click here!