Philanthropy & Culture: PF Partners with MDA for Fill the Boot Program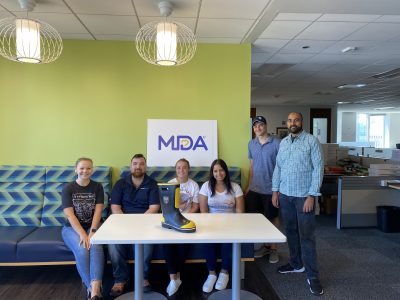 Philanthropy & Culture: PF Partners with MDA for Fill the Boot Program 
As a patient-focused delivery team, we are committed to connecting our team members to patients and their families. Connecting our team to the patients has fostered a culture within our organization that is focused on providing solutions, meeting deadlines, and getting results. 
Since 1954, fire fighters across the country have collected critical funds in the community – one dollar at a time – as part of the Fill the Boot program to raise funds for Muscular Dystrophy Association (MDA). To support this year's annual Fill the Boot Program, the Chicagoland Project Farma team joined the MDA at their Corporate Headquarters to package supplies for local fire fighters! Our team packaged 170 kits containing 255,000 stickers, 1,360 boot wraps, and 1,020 bank bags for 5 districts, 25 battalions, and 98 fire houses of the Chicago Fire Department.   
Click here to learn more about how you can support MDA's Fill the Boot Program, click here!