On-Demand: Endpoints Webinar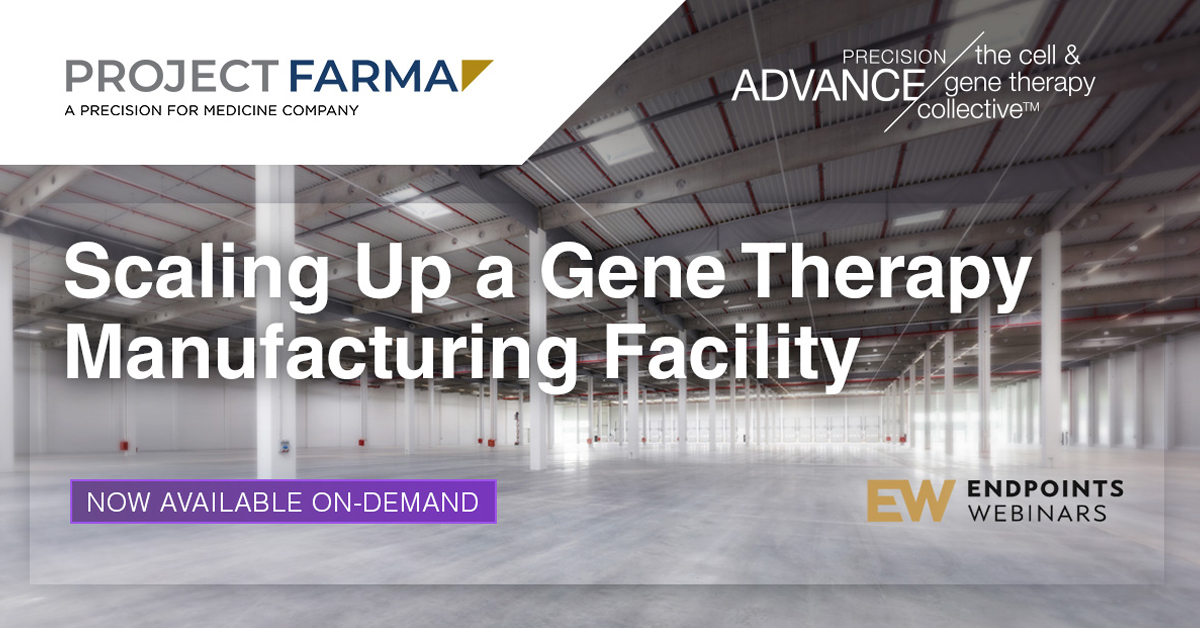 Scaling up a gene therapy manufacturing facility is extremely complex and challenging. In this webinar, co-sponsored by Precision ADVANCE and Project Farma, a panel of industry experts discuss the strategies and challenges faced when building a cutting-edge gene therapy facility from the planning stages to build-out to operational readiness. They will also share key insights into their company's approach to building these facilities and for mitigating risk under accelerated timelines.
This webinar hosted by Endpoints Webinars and co-sponsored by Precision ADVANCE and Project Farma will be moderated by Anshul Mangal (President of Project Farma and Precision ADVANCE), and feature insights from Greg Gara (SVP, Manufacturing at Taysha Gene Therapies), Ricardo Jimenez (VP, Technical Operations at Neurogene), Tony Khoury (EVP of Project Farma), Sarah Stoll (Director at Project Farma), and Brian Winstead (Senior Director, Facilities & Engineering at Sarepta Therapeutics).
Attendees will have the opportunity to:
Hear from industry leaders on their unique experience and approach to building a gene therapy manufacturing facility

Learn whether a facility is right for your organization by utilizing a "make vs. buy" business case analysis

Learn about flexible manufacturing including modular and single-use technology

Set up your facility build for success by creating proper project workstreams, infrastructure, and quality

systems

Learn about phased implementation, commissioning and qualification strategies, and regulatory challenges