Philanthropy: Chicago Cares 2018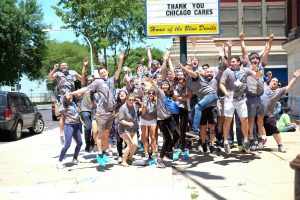 Connecting our team to the patients allows for a culture focused on providing solutions, meeting deadlines & getting results.
We partnered with Chicago Cares, an organization that empowers volunteers to roll up their sleeves, connect across lines of difference, and learn about the challenges facing Chicago. In 2018, the Project Farma team partnered with Northwestern Hospital to help repaint and rehab the interior of Tilden High School in Englewood, Chicago.