Philanthropy & Culture: PF Attends MDA Muscle Walk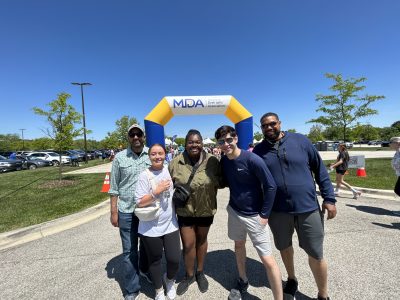 PF Walks with The Muscular Dystrophy Association 
As a patient-focused delivery team, we are committed to connecting our team members to patients and their families. Connecting our team to the patients has fostered a culture within our organization that is focused on providing solutions, meeting deadlines, and getting results.  
The Chicagoland Project Farma team recently participated in the Muscular Dystrophy Association's annual Muscle Walk! Our group walked alongside families affected by different types of muscular dystrophy – Duchenne Muscular Dystrophy, Limb-Girdle Muscular Dystrophy, and more – to raise awareness and funds in support of the search for a cure. Together, we can empower those affected by Muscular Dystrophy to live longer, more independent lives.
With the support of our teams, we raised awareness to help drive groundbreaking research, provide life-changing programs, and guarantee a supportive community for those who need it most. 
To learn more about the MDA and discover a Muscle Walk near you, click here!