Virtual Event: Cell & Gene Day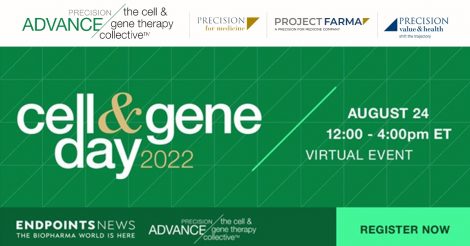 Cell & Gene Day is August 24 
As a wave of up-and-coming cell and gene therapies eye the path to approval soon, a combination of uncertainties threatens the waters ahead. A lack of talent, shortage of manufacturing, standardization, and shifting infrastructure are just the beginning of a range of potential issues.  
Join Endpoints News and Precision ADVANCE for Cell & Gene Day, a free virtual event on August 24, from 12:00-4:00 PM ET where we convene three distinguished panels of experts to find out where the field stands today and explore funding, development and launch strategies to smooth out the ride to commercialization. You will hear from successful innovators from each facet of the CGTx landscape, including executives from Blackstone, Flagship Pioneering, Monograph Capital, Alliance for Regenerative Medicine, Satellite Bio, Cellevolve Bio, and more.  
CLICK HERE to learn more and to register for one, or all the panel discussions.
Future Technologies for Cell & Gene Therapy
12:00-1:00 pm ET 
[Chair] Anshul Mangal: President (Precision ADVANCE & Project Farma) 

Robert Ang: CEO (Vor Bio) 

Fred Cohen: Co-Founder & Chairman (Monograph Capital Partners) 

Dave Lennon: CEO (Satellite Bio) 

Mark McCamish: President & CEO (IconOVir Bio) 

Palani Palaniappan: CTO (Pioneering Medicines at Flagship Pioneering) 

Deborah Phippard: CSO (Precision for Medicine)
Pricing & Reimbursement: Unlocking the Potential for ATMPs
1:30-2:30pm ET 
[Chair] Ross Maclean: EVP (PRECISIONheor) 

Phil Cyr: SVP (Precision Value & Health) 

Brett Kopelan: Executive Director (Debra of America)

Michele Korfin: COO & CCO (Gamida Cell Ltd) 

Janet Lambert: CEO (Alliance for Regenerative Medicine) 

Derrell Porter: Founder & CEO (Cellevolve Bio)
Funding CGTx: 2022 and Beyond
3:00-4:00 pm ET 
[Chair] John Carroll: Editor & Founder (Endpoints News) 

Fred Cohen: Co-Founder & Chairman (Monograph Capital Partners) 

Peter Emtage: Venture Partner (Versant) 

Janis Naeve: Partner (Cota Capital) 

Kiran Reddy: Senior Managing Director (Blackstone)

Published: August 2022