Conference: Meeting on the Mesa, 2021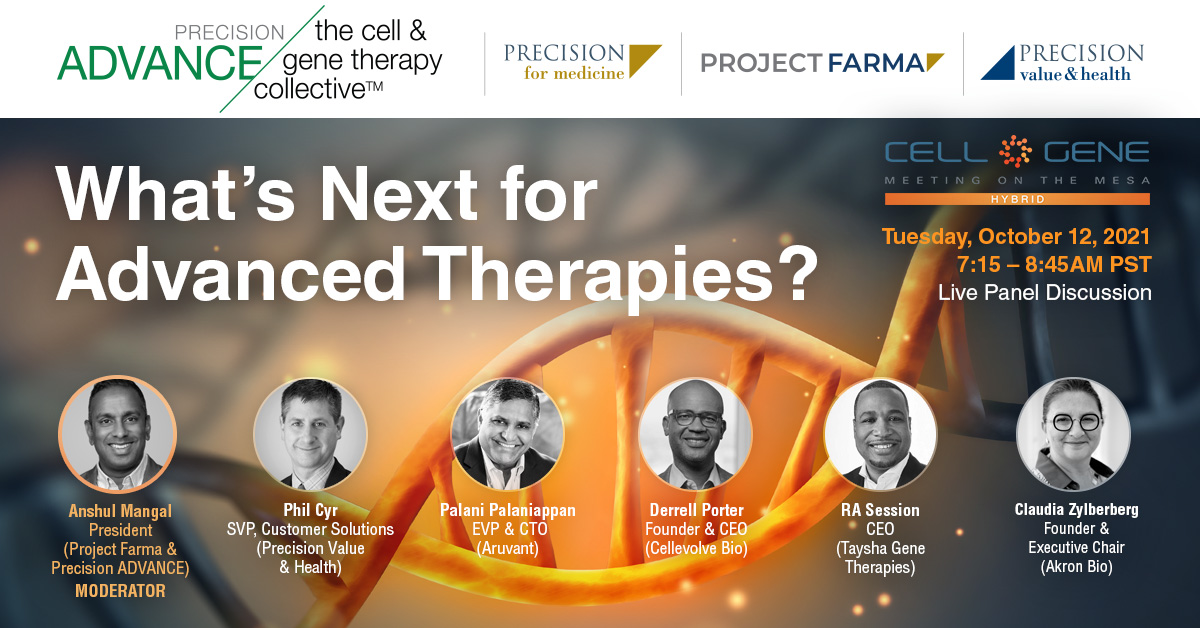 Panel Discussion sponsored by Precision ADVANCE
The advanced therapies sector is growing at an exponential rate. According to a recently published 2021 Report by ARM, the sector has raised $14.1B in financing in the first half of 2021 which is already 71% of what was raised in all of 2020.  This panel, sponsored by Precision ADVANCE, will feature insights from industry leaders on the future of advanced therapies including innovations in clinical trials, going from treating rare diseases to prevalent conditions, and implementing next-generation gene-editing technologies. The panelists will also discuss manufacturing and talent bottlenecks and the evolution of reimbursement payment models.
Moderated by Anshul Mangal (President of Project Farma & Precision ADVANCE), this discussion will feature insights from Derrell Porter (Founder & CEO at Cellevolve), Palani Palaniappan (CTO at Aruvant), RA Session II (Founder & CEO at Taysha Gene Therapies),Phil Cyr (SVP, Customer Solutions at Precision Value & Health), andClaudia Zylberberg (Founder & Executive Chair at Akron Bio).
Connect with Experts from Precision ADVANCE at Meeting on the Mesa by:
Attending our workshop on Tuesday, October 12, 7:15am PST

Scheduling an in-person or virtual meeting via the Meeting on the Mesa partnering system or by emailingprecisionadvance@precisionmedicinegrp.com

Attending our private reception on Wednesday, October 13 from 6-7pm PST – Aviara Courtyard & Terrace (Park Hyatt Aviara)

Finding our booth from October 12 to October 14 in the Grand Foyer and Hallway outside of the main ballrooms
Make sure to visit the Precision ADVANCE website for access to more thought leadership, white papers, and publications from our experts.